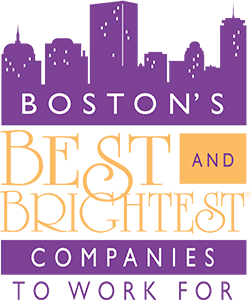 Boston's 2016 Best and Brightest Companies to Work For®
December, 2016
Congratulations to all 2016 Boston's Best and Brightest Companies to Work For!
You've Been Recognized As One Of The Best & Brightest. Now It's Time to Show Your Shine!
Does your company have an outstanding company culture?
Are your team members recognized for a job well done?
Do your employees love coming into the office everyday?
Show Us What Makes Your Company Culture Stand Out!
Bragging Rights in Your Region and Broader Recognition are on the Line!
How to Participate:
Step 1:  Find a way to show us what makes your culture shine!
Create a Video
Create a one-minute video. Your video can be a CEO interview, a photo collage, HR advertisement, employee testimonials, an office tour, an outline of your core values, etc. We are looking for what makes your company a Best & Brightest Company to Work For!
Videos should be one-minute or less. Entries over one-minute will be disqualified.
Step 2: Submit your entry!
Share your entry on Twitter and Facebook using the hashtag "#101BB". Caption your post "Boston #101BB Contest". All Facebook entries must include the hashtag and tag the Best & Brightest Companies To Work For Facebook account to be valid.
We are accepting submissions until  March 8th, 2017.
Voting and Winner Selection:
We are leaving it up to our Best & Brightest team to vote on the contest entries that are submitted. Winners will be announced and celebrated!
Winners Prize Package Includes:
Recognition on Best & Brightest website and social media.
Discounted Analysis Fee for the 2018 Program
Don't Let That Shine Go Unnoticed. Enter Today!
PUMA North America – Social Media Contest Winner!
EM DUGGAN
EM Duggan Boston #101BB Contest

#ThisIsUs and we are grateful to all of our past and present employees who enable us to be a #bestandbrightest winner and to be part of their social media Boston #101BB Contest. This is our entry showing a snipet of our amazing company culture a fifth generation family run company for 126 years. We are truly grateful that all of you are a part of the E.M. Duggan family and honored to be nominated as one of the Best & Brightest companies to work for in Boston.

Posted by E.M. Duggan on Friday, March 3, 2017
Kronos
Kronos Culture of Inspiration & Caring for our Customers https://t.co/zodY2nk9o5 "Boston #101BB Contest" "National #101BB Contest" @101Best pic.twitter.com/h1BPLJHK7K

— Kronos Incorporated (@KronosInc) March 2, 2017
Better Business. Richer Lives. Stronger Communities.
Best and brightest strives to recognize the most influential, trend-setting companies across the country and regionally in focused programs.